THE VOYAGE TO EXCELLENCE: The Ascent of 21 Women Leaders of India Inc.
In collaboration with Debashish Ghosh. Published by Pustak Mahal, New Delhi. 2005
Oxford Bookstore [2005]
"A never-ending desire `to strive, to seek, to find, and not to yield.` It is this indomitable human spirit that two young authors give expression to through their creative endeavours in The Voyage to Excellence. In this bold venture, Debashish Ghosh and Nischinta Amarnath give an insight into the dynamics of different business models spearheaded by exceptional human beings."
Narayana Murthy, Chairman, Infosys Technologies Ltd. [2005]
"The women entrepreneurs who have emerged in the past two decades in India have successfully shattered the glass ceiling to grow into vital, dynamic leaders ... Nischinta and Debashish have narrated the stories of these leaders with great skill and empathy. Each story is an insight into a fascinating journey - as the book puts it, a voyage. The Voyage to Excellence serves as an important inspiration for women today ... Stories like these are essential to inspire more women to challenge the status quo and to motivate them towards courage, awareness and independence."
"I think this is probably the first time that two students have undertaken an ambitious project like this. What I found noteworthy is that they have approached the subject with sensitivity and a sense of objectivity. Their effort will no doubt inspire other authors to delve into business and social issues and bring them to wider audiences."
- Anu Aga, ex-Chairperson of THERMAX LIMITED and India's eighth richest woman
"The Voyage to Excellence could not be more aptly named ... The struggle that [the authors] have gone through has set me thinking. If all our youngsters showed as much enthusiasm in their work - whatever it be - our academic system would be forced to change in response."
- Prabhu Chawla, Editor, India Today
"[T]he journeys to excellence encompassed in this book will hold lessons not just for women but for any young person seeking to be the best ... the authors of this book have done a wonderful job of capturing the thrills and the challenges that pave the road to success."
- Anand Mahindra, Managing Director, M&M Ltd.
"What is more remarkable - the achievements, life and times of the 21 incredible businesswomen profiled in this book or the endeavour, drive and ambition of the two young authors who made this book happen? Characterizing this resurgent India is the spirit of entrepreneurship, creativity, ingenuity and a certain joyous youthfulness. And that is exactly what this book symbolizes."
- Anita Pratap, Senior Journalist and former TIMES & CNN News correspondent.
"Live stories of 21 successful Indian women at the helm of Indian business, well-researched and well-narrated. A bold, imaginative and speedy effort."
- Dr. Y.S. Rajan, Principal Advisor, Confederation of Indian Industries and co-author of Vision 2020.
"A superlative attempt."
- Sify.com
"A laudable ... effort."
- Satya Saran, Editor, Femina
"Women will inevitably search for similarities and differences between their lives and those of the women featured here."
- Dr Gita Piramal, Managing Editor, The Smart Manager.
"Nineteen-year-old Nischinta Amarnath has under her belt accomplishments that would take any other person a few grey hairs and some wrinkles to achieve."
- Bindu Shajan Perappadan, The Hindu
"Two college students managing detailed interviews with India Inc's most powerful women leaders should make veteran journalists green with envy. This is undoubtedly the greatest appeal of The Voyage to Excellence."
- Anjana Chandramouly, The Hindu Business Line
CITI AND ITS SCUFFLE WITH THE WATCHDOGS.
Published by an affiliate of VDM Publishing in Saarbrücken, Germany. 2014.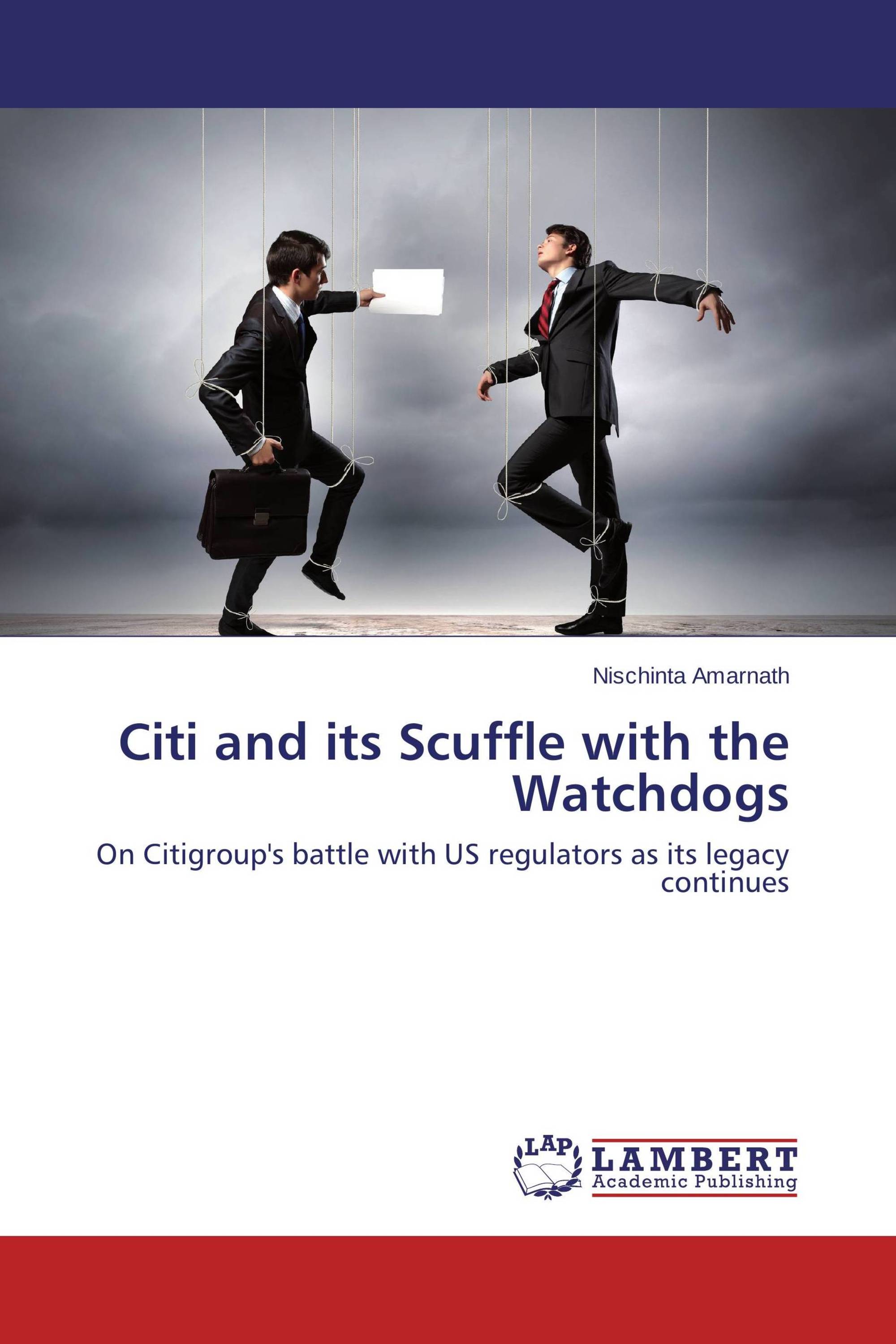 Sylvia Nasar, author of 'A Beautiful Mind' and 'Grand Pursuit: The Story of Economic Genius.'
"Given the trading scandal that engulfed Jamie Dimon and JP Morgan Chase... Nish Amarnath's [work] profiling Brian Leach, the chief risk officer at Citigroup and shining a spotlight on the intricate kabuki play that has evolved between the bank and its regulators was exceptionally well-timed.
"It is almost impossible for a reporter ... to get an interview with a senior banking executive, much less one in the crosshairs of regulators and politicians. Somehow, Ms. Amarnath managed to get Leach to spend two hours talking to her about everything from his passion for skiing to his motive for joining the troubled bank. Ms. Amarnath turned out to be an indefatigable reporter. She has mastered vast amounts of material and wrestled it into a creditable narrative."