WOMEN EMPOWERMENT AWARD. ROTARY CLUB. 2018
Commemorated by the Rotary Club for the role of Victims For Sale in addressing social and human rights issues concerning the reproductive rights of mentally challenged women. Invited to speak on Mother's Day 2018 and conferred the Women Empowerment Award.
Having a shawl draped around you at a public event is regarded as the highest form of respect in India.
KEYWORDS: Nish Amarnath, Victims For Sale, Rotary Club, women empowerment, Mother's Day, mentally challenged.
COLLEGE ACHIEVER AWARD - DISTINCTION IN ECONOMICS AT UNIVERSITY. 2006
STELLA MARIS COLLEGE.
Conferred the College Achiever Award for academic excellence as well as extra-curricular and research achievements over the period of my under-graduate degree. Earned a Distinction in Economics (Bachelor of Arts).
HABITAT YOUNG VISIONARY AWARD. 2006.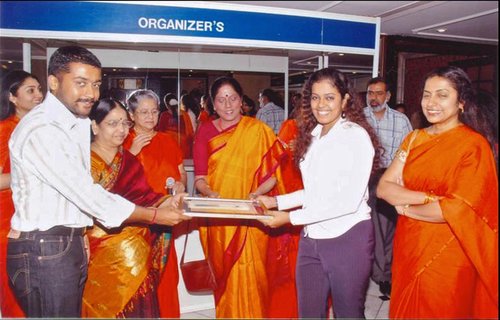 REAL WOMAN ACHIEVER - DUCHESS CLUB OF MADRAS. 2005
Receiving the Duchess Club 'Real Woman Achiever Award' for distinctive contribution to literature.
WITH FILM ACTOR, PRODUCER AND TV PRESENTER SURIYA.
SILVER MEDAL FROM THE PRESIDENT OF INDIA. NEW DELHI. 2003.
With the late Dr. APJ Abdul Kalam, President of India (at the time) at an award ceremony; Received a medal in fiction-writing upon being selected from roughly 400,000 participants across 78 nations in the Shankar's International Writing Competition.
NATIONAL ECONOMICS TOPPER - AWARD. 2003
Receiving an award for receiving the highest score in Economics (98 percent) in the CISCE (A-Levels equivalent) examinations in 2003.
KEYWORDS: A-levels, Economics, board examinations, ICSE, ISC
Scholastics Writing Awards. 2002
Speaking at the Scholastics Writing Awards after my story, Beyond Beauty was selected as best fiction entry.